NEWS & EVENTS > EVENTS
"A nation's culture resides in the hearts and in the soul of its people"
-Mahatma Ghandi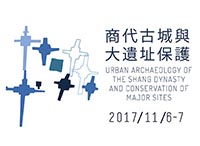 Conference: Urban archaeology of the Shang dynasty and conservation of major sites
6-7 November 2017
"Urban Archaeology of the Shang Dynasty and Conservation of Major Sites" will be the third annual conference on Chinese culture jointly organized by Chinese Cultural Studies Center and the Cultural Management Programme at The Chinese University of Hong Kong. This year, the Henan Provincial Institute of Cultural Relics and Archaeology will also be joining as an organizer. The aim of this conference is to foster fruitful dialogue on the significance of recent findings of Shang urban settlements, as well as developing insights into more effective methods in addressing the challenges of site conservation.

Click for website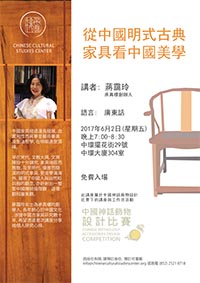 Talk: A look at Chinese aesthetics through Ming classical furniture
2 June 2017
Ming furniture achieved lofty international acclaim for its subtle beauty and graceful form. Furniture came to represent something higher: the harmony between man and nature, and the union of distinctly Chinese values, ethics, philosophy, and aesthetics.
In this talk, Oi Ling Chiang will be exploring what Chinese aesthetics is, through the study of Chinese antique furniture.
The talk will be in Cantonese.

Click for poster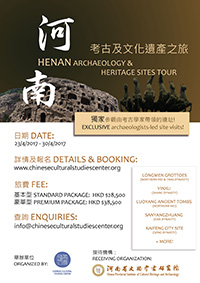 Henan Archaeology & Heritage Sites Tour
23 April - 30 April 2017
For those who are interested in Chinese history, Henan is a destination that cannot be missed. It is where Chinese civilization is considered to have started, the very roots of the culture and dynasties to which Chinese people today trace their heritage.

This is a unique opportunity to not only experience history in person, but to learn more about the dynamic conservation and archaeological processes that are behind it.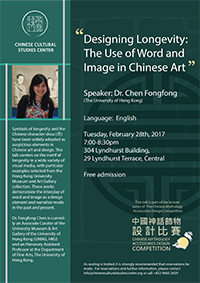 Talk: Designing Longevity: The Use of Word and Image in Chinese Art
28 February 2017
Symbols of longevity and the Chinese character shou (壽) have been widely adopted as auspicious elements in Chinese art and design. This talk centers on the motif of longevity in a wide variety of visual media.

Dr. Fongfong Chen is currently an Associate Curator of the University Museum & Art Gallery of the University of Hong Kong (UMAG, HKU) .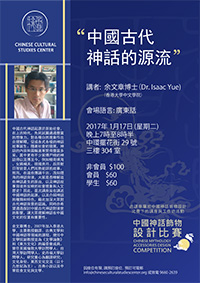 Talk: "The Origins and Spread of Ancient Chinese Mythology"
17 January 2017
Dr. Isaac Yue from The School of Chinese at The University of Hong Kong, will be giving a talk on the origins of Chinese mythology, and their different categorizations, and unique characteristics, offering insights into the importance and role that myths have played in shaping Chinese culture.

The talk will be in Cantonese.

Click for more details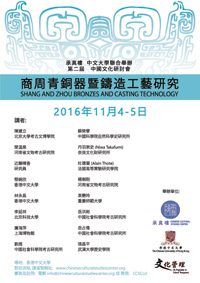 Conference: Shang and Zhou Bronzes and Casting Technology
4-5 November 2016
The second annual event on Chinese culture to be jointly organized by Chinese Cultural Studies Center and the Cultural Management department at CUHK will be on Shang and Zhou Bronzes and Casting Technology Conferences. Distinguished archaeologists from China and other countries will be presenting their latest research in the field of ancient Chinese Bronzes.

Click for event poster Click for event website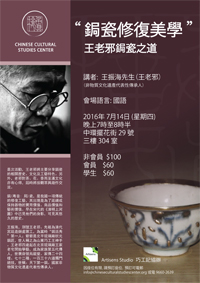 Juci: A traditional method of ceramic repair
14 July 2016
Mr. Wang Laoxie, a master craftsman skilled in the traditional Chinese method of juci, a unique repair method for ceramics that can be likened to stapling, will be giving a presentation on the history, culture, and craftsmanship of this discipline. The secrets of the trade have until recently been tightly guarded, and passed down in his family through the traditions, starting with his ancestor, who worked in the Imperial Workshop of the Qing dynasty.
Presentation will be in Putonghua.

Click for more details
For videos of our events, visit our YouTube page:
Check out our newsletter for more information about our activities: