NEWS & EVENTS > EVENTS
"A nation's culture resides in the hearts and in the soul of its people"
-Mahatma Ghandi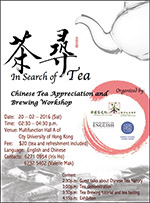 Tea Workshop at City University of Hong Kong
21 February 2016
Join us on February 20th for a fun yet meaningful afternoon at our tea event at City University of HK. The student-led event, which is supported by CCSC and the Chinese Tea Culture International Exchange Association, will include a talk on the history of Chinese tea, a tea demonstration by a master, tea tasting, and an opportunity for all those present to try their hand at making their own tea under the guidance of the tea master.

Click for more details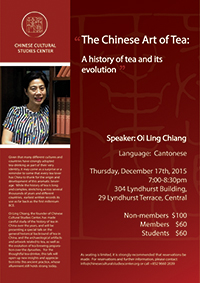 The Chinese Art of Tea: A history of tea and its evolution
by Oi Ling Chiang
17 December 2015
As far as historical evidence shows, tea had its earliest origins in China. Oi Ling Chiang, founder of CCSC, will be giving a special talk that will cover a brief history of tea in China, as well as the evolution of tea brewing.
For the thoughtful tea-drinker, this talk, that will open up new insights into this ancient practice, is not to be missed!

Click for more details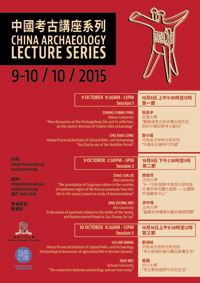 China Archaeology Lecture Series
9-10 October 2015
Co-organized by Chinese Cultural Studies Center and the Cultural Management BA Programme of Chinese University of Hong Kong, the China Archaeology Lecture Series brings together leading archaeologists from research institutions and academic departments across China to share the latest developments and research in China archaeology and excavation work.

Click for more details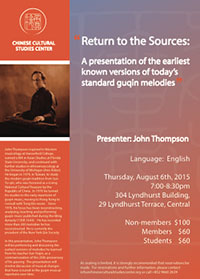 Return to the Sources: A presentation of the earliest known versions of today's standard guqin melodies
by John Thompson
6 August 2015
In this presentation, well-known guqin practitioner John Thompson will be performing and discussing the earliest versions of melodies he learned from his teacher Sun Yuqin, as a commemoration of the 25th anniversary of his passing. The presentation will involve discussion of musical changes that have occurred in the guqin musical repertoire over time.

Click for more details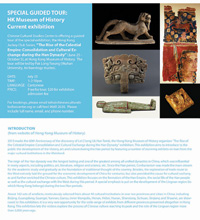 Special Guided Tour: Hong Kong of Museum Han Dynasty Exhibition
25 July 2015
"Chinese Cultural Studies Center is offering a guided tour of the exhibition, the Hong Kong Jockey Club Series, "The Rise of the Celestial Empire: Consolidation and Cultural Exchange during the Han Dynasty," at Hong Kong Museum of History

Click for more details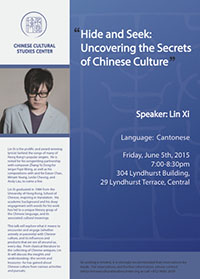 Talk : Hide and Seek: Uncovering the Secrets of Chinese Culture
by Lin Xi
5 June 2015
Lin Xi is the prolific and award-winning lyricist behind the songs of many of Hong Kong's popular singers. He is noted for his songwriting partnership with composer Zhang Ya Dong for singer Faye Wong, as well as his compositions with and for Eason Chan, Miriam Yeung, Leslie Cheung, and Andy Lau, to name a few.
His deep engagement with words for his work has led to a unique literary grasp of the Chinese language, and its associated cultural meanings.  This talk will explore what it means to encounter and engage (whether actively or passively) with Chinese culture, and its influences and products that we see all around us, every day.  From classical literature to the collecting of Chinese antiques, Lin Xi will discuss the insights and understanding--the secrets and treasures--he has gained about Chinese culture from various activities and pursuits.

Click for more details
Culture of Incense: Incense Conference (Nanjing)
1-2 May 2015
This upcoming event organized by CCSC will bring together scholars and experts in the field of Chinese incense to disseminate and share information regarding the incense culture, a tradition that dates as far back as the Neolithic periods more than 5000 years ago, and coming into full flourish in the Song Dynasty, up to the Qing Dynasty. This conference aims to provide an intersectional space for incense as seen through the lens of recent archaeological research and scientific findings, and incense as a cultural practice and ritual. The conference will include talks, and live incense demonstrations and ceremonies.
Click for more details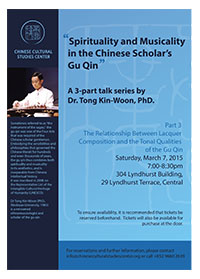 Gu Qin Lecture Part 3
7 March 2015
Dr. Tong Kin-Woon will be giving the third and final part of his 3-part talk series, "Spirituality and Musicality in the Chinese Scholar's Gu Qin." Part 3 is titled "The relationship between lacquer composition and the tonal qualities of the Gu Qin".
Click for more details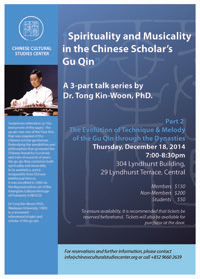 Gu Qin Lecture Part 2
18 December 2014
Dr. Tong Kin-Woon will be giving the second part of his 3-part talk series, "Spirituality and Musicality in the Chinese Scholar's Gu Qin". Part 2 is titled "The Evolution of Technique and Melody of the Gu Qin through the Dynasties"
Click for more details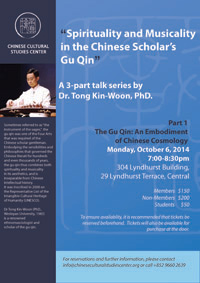 Gu Qin Lecture Part 1
6 October 2014
Renowned ethnomusicologist and scholar of the gu qin, Dr. Tong Kin-Woon, will be giving a 3-part talk series, "Spirituality and Musicality in the Chinese Scholar's Gu Qin". Part 1 is titled "The Gu Qin: An Embodiment of Chinese Cosmology"
Click for more details
For videos of our events, visit our YouTube page:
Check out our newsletter for more information about our activities: