NEWS & EVENTS > EVENTS
"A nation's culture resides in the hearts and in the soul of its people"
-Mahatma Ghandi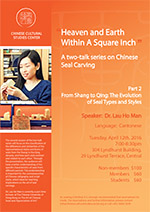 Heaven and Earth Within A Square Inch Part 2:
From Shang to Qing: The Evolution of Seal Types and Styles
12 April 2016
The second session of the two-talk series by Dr. Lau Ho Man will focus on the classi¬fication of the differences and similarities of the representational styles and forms of seals from the Shang to the Qing dynasty, and how each style evolved and related to each other. Through the presentation, the audience will have a better understanding of the specific characteristics of seals from different periods. This understanding is important for the connoisseurship of Chinese calligraphy and script styles, which have far-reaching implications on the art of seal carvings.

Click for more details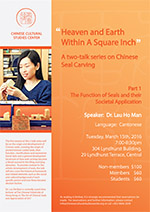 Heaven and Earth Within A Square Inch Part 1:
The Function of Seals and their Societal Application
15 March 2016
The first session of this 2-talk series by Dr. Lau Ho Man will be on the origin and development of Chinese seals, covering the origin of ancient bronze-casted seals, their function, classifications and representational style and a general developmental picture of how seal carvings became a literati pursuit in the Ming and Qing dynasties. To provide context for the artistic development of seals, the talk will also cover the historical framework and related elements such as the social and cultural background of each specific period and how these became decisive factors.

Click for more details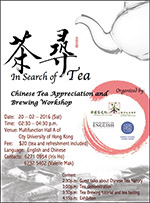 Tea Workshop at City University of Hong Kong
21 February 2016
Join us on February 20th for a fun yet meaningful afternoon at our tea event at City University of HK. The student-led event, which is supported by CCSC and the Chinese Tea Culture International Exchange Association, will include a talk on the history of Chinese tea, a tea demonstration by a master, tea tasting, and an opportunity for all those present to try their hand at making their own tea under the guidance of the tea master.

Click for more details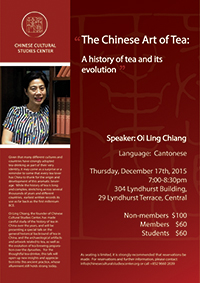 The Chinese Art of Tea: A history of tea and its evolution
by Oi Ling Chiang
17 December 2015
As far as historical evidence shows, tea had its earliest origins in China. Oi Ling Chiang, founder of CCSC, will be giving a special talk that will cover a brief history of tea in China, as well as the evolution of tea brewing.
For the thoughtful tea-drinker, this talk, that will open up new insights into this ancient practice, is not to be missed!

Click for more details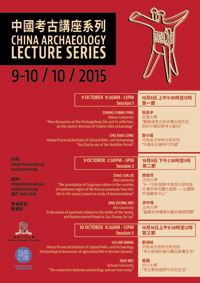 China Archaeology Lecture Series
9-10 October 2015
Co-organized by Chinese Cultural Studies Center and the Cultural Management BA Programme of Chinese University of Hong Kong, the China Archaeology Lecture Series brings together leading archaeologists from research institutions and academic departments across China to share the latest developments and research in China archaeology and excavation work.

Click for more details
For videos of our events, visit our YouTube page:
Check out our newsletter for more information about our activities: