NEWS & EVENTS > EVENTS
"A nation's culture resides in the hearts and in the soul of its people"
-Mahatma Ghandi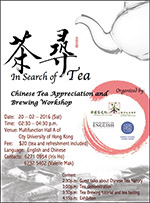 Tea Workshop at City University of Hong Kong
21 February 2016
Join us on February 20th for a fun yet meaningful afternoon at our tea event at City University of HK. The student-led event, which is supported by CCSC and the Chinese Tea Culture International Exchange Association, will include a talk on the history of Chinese tea, a tea demonstration by a master, tea tasting, and an opportunity for all those present to try their hand at making their own tea under the guidance of the tea master.

Click for more details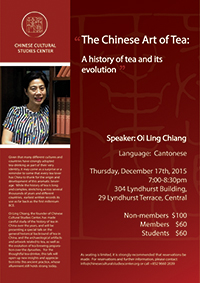 The Chinese Art of Tea: A history of tea and its evolution
by Oi Ling Chiang
17 December 2015
As far as historical evidence shows, tea had its earliest origins in China. Oi Ling Chiang, founder of CCSC, will be giving a special talk that will cover a brief history of tea in China, as well as the evolution of tea brewing.
For the thoughtful tea-drinker, this talk, that will open up new insights into this ancient practice, is not to be missed!

Click for more details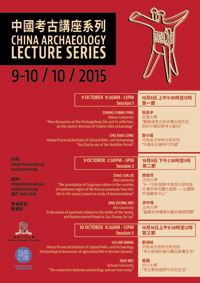 China Archaeology Lecture Series
9-10 October 2015
Co-organized by Chinese Cultural Studies Center and the Cultural Management BA Programme of Chinese University of Hong Kong, the China Archaeology Lecture Series brings together leading archaeologists from research institutions and academic departments across China to share the latest developments and research in China archaeology and excavation work.

Click for more details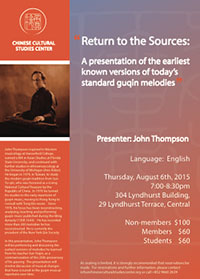 Return to the Sources: A presentation of the earliest known versions of today's standard guqin melodies
by John Thompson
6 August 2015
In this presentation, well-known guqin practitioner John Thompson will be performing and discussing the earliest versions of melodies he learned from his teacher Sun Yuqin, as a commemoration of the 25th anniversary of his passing. The presentation will involve discussion of musical changes that have occurred in the guqin musical repertoire over time.

Click for more details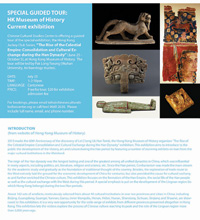 Special Guided Tour: Hong Kong of Museum Han Dynasty Exhibition
25 July 2015
"Chinese Cultural Studies Center is offering a guided tour of the exhibition, the Hong Kong Jockey Club Series, "The Rise of the Celestial Empire: Consolidation and Cultural Exchange during the Han Dynasty," at Hong Kong Museum of History

Click for more details
Check out our newsletter for more information about our activities: