NEWS & EVENTS > EVENTS
"A nation's culture resides in the hearts and in the soul of its people"
-Mahatma Ghandi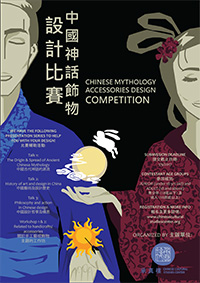 2017 Chinese Mythology Accessories Design Competition
Submission deadline: 1 September 2017
CCSC is pleased to announce the 2017 Chinese Mythology Accessories Design Competition!

This competition aims to encourage engagement and understanding of the philosophies, aesthetics, and motifs of traditional Chinese art and design, and to consider the potential synergy of these traditional elements in a modern context. In addition, through the competition's theme of "Chinese mythology," contestants can deepen their understanding of Chinese mythologies, enriching their own cultural knowledge.

Flex your creative muscles and ingenuity, and check it out now!

Click for poster Click for competition website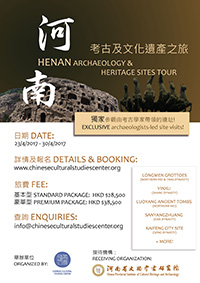 Henan Archaeology & Heritage Sites Tour
23 April - 30 April 2017
For those who are interested in Chinese history, Henan is a destination that cannot be missed. It is where Chinese civilization is considered to have started, the very roots of the culture and dynasties to which Chinese people today trace their heritage.

This is a unique opportunity to not only experience history in person, but to learn more about the dynamic conservation and archaeological processes that are behind it.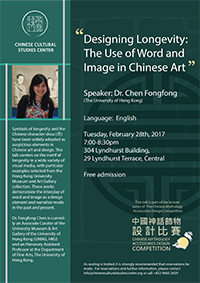 Talk: Designing Longevity: The Use of Word and Image in Chinese Art
28 February 2017
Symbols of longevity and the Chinese character shou (壽) have been widely adopted as auspicious elements in Chinese art and design. This talk centers on the motif of longevity in a wide variety of visual media.

Dr. Fongfong Chen is currently an Associate Curator of the University Museum & Art Gallery of the University of Hong Kong (UMAG, HKU) .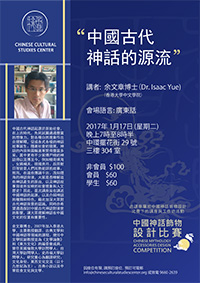 Talk: "The Origins and Spread of Ancient Chinese Mythology"
17 January 2017
Dr. Isaac Yue from The School of Chinese at The University of Hong Kong, will be giving a talk on the origins of Chinese mythology, and their different categorizations, and unique characteristics, offering insights into the importance and role that myths have played in shaping Chinese culture.

The talk will be in Cantonese.

Click for more details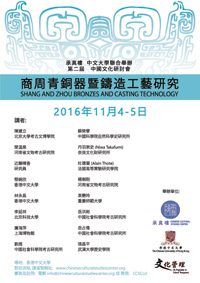 Conference: Shang and Zhou Bronzes and Casting Technology
4-5 November 2016
The second annual event on Chinese culture to be jointly organized by Chinese Cultural Studies Center and the Cultural Management department at CUHK will be on Shang and Zhou Bronzes and Casting Technology Conferences. Distinguished archaeologists from China and other countries will be presenting their latest research in the field of ancient Chinese Bronzes.

Click for event poster Click for event website
Check out our newsletter for more information about our activities: