NEWS & EVENTS > EVENTS
"A nation's culture resides in the hearts and in the soul of its people"
-Mahatma Ghandi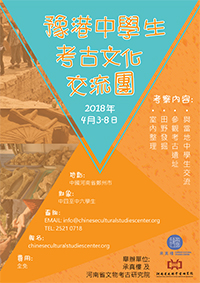 Students exchange archaeological tour to Henan
Applications now open!
3-8 April 2018
Students from Form 4 to Form 6 have the unique opportunity to go to Henan in an archaeological educational tour. Students will be able to learn and see many aspects of archaeological work, including excavation and restoration. The tour is organized by Chinese Cultural Studies Center and the Henan Provincial Institute of Cultural Relics and Archaeology.

Click for more details and application form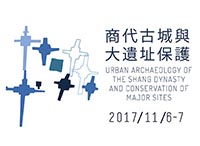 Conference: Urban archaeology of the Shang dynasty and conservation of major sites
6-7 November 2017
"Urban Archaeology of the Shang Dynasty and Conservation of Major Sites" will be the third annual conference on Chinese culture jointly organized by Chinese Cultural Studies Center and the Cultural Management Programme at The Chinese University of Hong Kong. This year, the Henan Provincial Institute of Cultural Relics and Archaeology will also be joining as an organizer. The aim of this conference is to foster fruitful dialogue on the significance of recent findings of Shang urban settlements, as well as developing insights into more effective methods in addressing the challenges of site conservation.

Click for website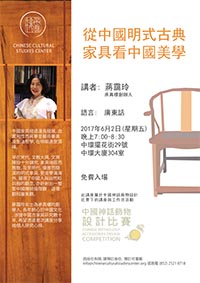 Talk: A look at Chinese aesthetics through Ming classical furniture
2 June 2017
Ming furniture achieved lofty international acclaim for its subtle beauty and graceful form. Furniture came to represent something higher: the harmony between man and nature, and the union of distinctly Chinese values, ethics, philosophy, and aesthetics.
In this talk, Oi Ling Chiang will be exploring what Chinese aesthetics is, through the study of Chinese antique furniture.
The talk will be in Cantonese.

Click for poster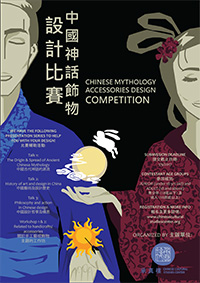 2017 Chinese Mythology Accessories Design Competition
Submission deadline: October 13, 2017
CCSC is pleased to announce the 2017 Chinese Mythology Accessories Design Competition!

This competition aims to encourage engagement and understanding of the philosophies, aesthetics, and motifs of traditional Chinese art and design, and to consider the potential synergy of these traditional elements in a modern context. In addition, through the competition's theme of "Chinese mythology," contestants can deepen their understanding of Chinese mythologies, enriching their own cultural knowledge.

Flex your creative muscles and ingenuity, and check it out now!

Click for poster Click for competition website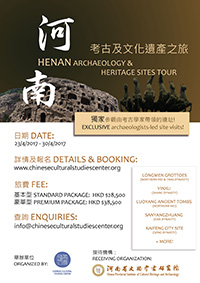 Henan Archaeology & Heritage Sites Tour
23 April - 30 April 2017
For those who are interested in Chinese history, Henan is a destination that cannot be missed. It is where Chinese civilization is considered to have started, the very roots of the culture and dynasties to which Chinese people today trace their heritage.

This is a unique opportunity to not only experience history in person, but to learn more about the dynamic conservation and archaeological processes that are behind it.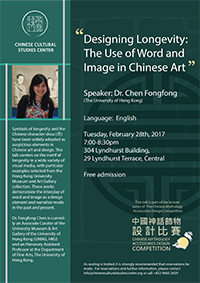 Talk: Designing Longevity: The Use of Word and Image in Chinese Art
28 February 2017
Symbols of longevity and the Chinese character shou (壽) have been widely adopted as auspicious elements in Chinese art and design. This talk centers on the motif of longevity in a wide variety of visual media.

Dr. Fongfong Chen is currently an Associate Curator of the University Museum & Art Gallery of the University of Hong Kong (UMAG, HKU) .
For videos of our events, visit our YouTube page:
Check out our newsletter for more information about our activities: