NEWS & EVENTS > NEWS
"A nation's culture resides in the hearts and in the soul of its people"
-Mahatma Ghandi
Shang and Zhou Bronzes and Casting Technology Conference
4-5 November, 2016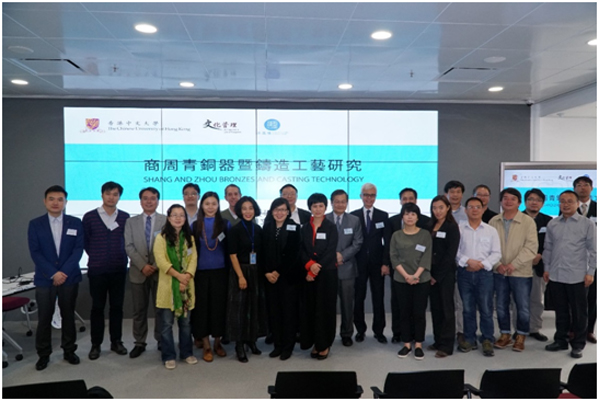 On November 4-5, 2016, the "Shang and Zhou Bronzes and Casting Technology" conference jointly organized by Chinese Cultural Studies Center and The Chinese University of Hong Kong was held to great success. It was a full attendance, with attendees ranging from university to students to researchers from other archaeological institutions and other interested members of the public. Ms. Florence Hui, Under Secretary for Home Affairs and Dr. Louis Ng, director of the Cultural Services Branch of the Leisure and Cultural Services Department were officiating guests at the first session of the conference. Welcoming speeches were made by Ms. Hui, Ms. Oi Ling Chiang, founding director of Chinese Cultural Service Department, and Professor Leung Yuen Sang, Dean of Faculty of Arts of The Chinese University of Hong Kong.

The conference consisted of six panel sessions:

PANEL 1 (panel chair: Mr. Chang Huaiying of The Chinese Academy of Social Sciences)
Yue Zhanwei
The Institute of Archaeology, Chinese Academy of Social Sciences
"A series of related questions on the casting technology of bronzes from Yinxu"


Li Yanxiang (presentation given by Dr. Chen Jianli)
University of Science and Technology Beijing
"A report on the investigation of the ore mining and foundry archaeological sites of early Chinese bronzes"


Chen Jianli
Peking University
"A technique study on the newly excavated Shang and Zhou bronzes from the northern Hubei and southern Henan area"


PANEL 2 (panel chair: Dr. Lai Ming Chiu of The Chinese University of Hong Kong)
Zhang Changping
Wuhan University
"To deal with legs and handles: The casting technology of ritual bronzes from the early
Bronze Age of China"


Niwa Takafumi
Nara National Research Institute for Cultural Properties
"Contrastive experimental study for reconstructing manufacturing technology of Chinese bronze artifacts"