NEWS & EVENTS > NEWS
"A nation's culture resides in the hearts and in the soul of its people"
-Mahatma Ghandi
Returning to the Sources: Recontructing the earliest known versions of guqin tablature
10 Aug 2015
John Thompson gave an enlightening presentation of reconstructed guqin songs at Chinese Cultural Studies Center, on August 6, 2015.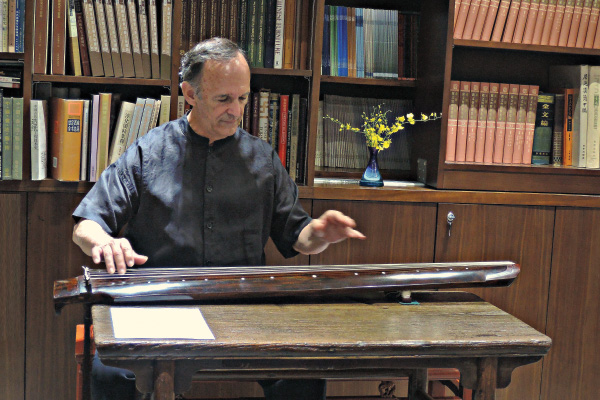 Guqin tablature does not indicate tempo, rhythm, nor note value (the relative duration of a note), and thus it is left to the player to work these things out by himself/herself, or more often, the guqin player will play a piece as taught to them by their teacher or master. This oral tradition of copying how the master plays, usually in lieu of direct consultation of the tablature, is one of the reasons why guqin melodies as played today have evolved to differ from the way it was written in earlier notations.

In his presentation on 6 August 2015, gu qin practioner John Thompson "returned to the sources" by performing songs that are part of the standard modern reportoire, but as written in the earliest known sources of these songs. John played the music as directly from handbooks from the 15th to the 17th century. The act of transcribing old tablature into a playable form is called dapu (打譜), and John has been transcribing and reconstructing old melodies for close to 40 years, since 1976. His focus has been on the reconstructing and performing of guqin music published during the Ming Dynasty (1368-1644), and he has recorded more than 200 melodies he has reconstructed.

The guqin is a quiet instrument, and the CCSC venue provided an intimate setting wherein those in attendance were able to enjoy the music in its natural state, without artificial amplification. We thank John for sharing with us his dedicated work to guqin tablature, and his wonderful playing!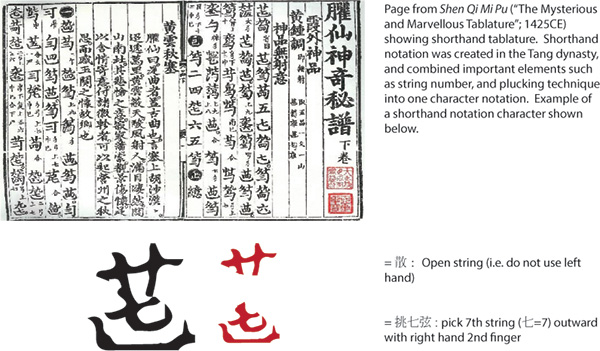 Visit John Thompson's website, www.silkqin.com, for more information on guqin tablature and his reconstruction work.